by Fredrik on Apr.15, 1998, under What I'm reading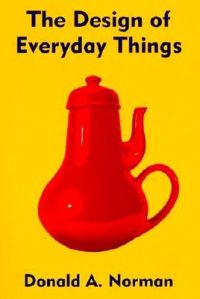 Även om den ursprungliga titeln The Psychology of Everyday Things kanske sa mer om tankarna bakom boken så är innehållet i denna nyutgåva i stort sett detsamma. Till och med de ljusaste och smartaste bland oss får ibland inte ihop det när det gäller hur i sammanhanget enkla och banala saker fungerar och felet ligger åtminstone ibland i produktens design och dess oförmåga att se till de tänkta användarnas behov (och grundläggande principer inom kognitiv psykologi). Denna bibel behandlar de kognitiva aspekterna inom design och innehållet gott om exempel på både bra och dålig design, liksom enkla tips att ta till för att förbättra designen och användbarheten hos ett vitt spektrum av produkter. Dörrar, bilar, datorer, telefoner och program. Det hör till allmänbildningen att ha läst den här boken!
The Design of Everyday Things av Donald A. Norman (1998). MIT Press. ISBN 9780262640374.
:Boktips, Design of Everyday Things, Don Norman, Donald A. Norman, Psychology of Everyday Things