by Fredrik on Sep.10, 1999, under What I'm reading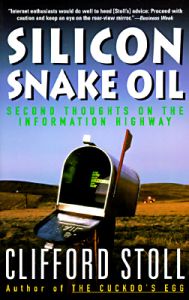 I en klyftigt författad vinkel på dagens övertro på tekniken i allmänhet och på Internet i synnerhet argumenterar Clifford Stoll, själv ingenjör från MIT och en av pionjärerna bakom Internet, för att allt inte är vad det verkar. För medan Internet ger tillgång till flertalet tjänster så är användbar information nästan omöjlig att hitta och svår att nå. Är det verkligen användbart att vara uppkopplad? "Few aspects of daily life require computers… They're irrelevant to cooking, driving, visiting, negotiating, eating, hiking, dancing, speaking, and gossiping. You don't need a computer to recite a poem or say a prayer.". Datorer kan inte, hävdar Stoll, ge dig ett rikare eller bättre liv. Sant eller falskt? Läs först och bedöm sen.
Silicon Snake Oil av Clifford Stoll (1998). Anchor Books. ISBN 0385419945.
:Boktips, Clifford Stoll