by Fredrik on Aug.24, 2010, under What I'm reading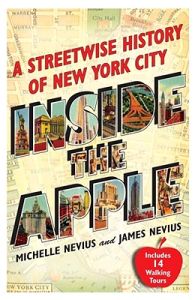 For the most part, this book outlines the relevant aspects of New York City history. In short and condensed chapters of one or two pages, the reader is given the background on The Big Apple in a humorous way and in chronological order from the days of New Amsterdam to the post 9/11 era. While not all stories are of interest, the general setup of the book makes it easy to simply skip forward (and back, as the book references in between chapters). A very interesting book for both the first-time tourist and for the native New Yorker. If you're visiting New York anytime soon this book is a must.
Inside the Apple : A Streetwise History of New York City by Michelle Nevius and James Nevius (2009). Free Press. ISBN 141658997X.
:Boktips, History of New York City, James Nevius, Michelle Nevius