Tag: Weber Spirit E-210
by Fredrik on Oct.15, 2013, under Grill
The smallest, cheapest and most simplified in Weber's range of gas grills is the Spirit E-210 Classic. That's the one I downgraded to. Why? Because it folds. In less than a minute I can stow it away to where it takes a minimum of space. Tom Schwalie, head of Weber's gas grills, is quoted as saying that the two burner version of the Spirit is the version which Weber has the highest hopes on: "One of our hopes with this facelift has been to develop a solid grill with two burners that takes less space than its predecessor. We wanted to create a smaller grill for customers with limited space. The side tables were to fold, so that it can be easily stowed without being bulky.". This is a perfect match for my needs. Thanks Tom! It has a few drawbacks, though, and in this post I'll try to describe how I have 'dealt' with those, how I have pimped my Weber.
First thing strikes you already when you glance at the assembly instructions. This was when I realized I had the 'Classic' version. There is also an 'Original' and a 'Premium' version (this is in the EU – if you live in the US there are even more versions, probably more like the 'Premium' and less like the 'Classic'). The essentials missing on a 'Classic' are cast iron grids, electronic ignition, condiment tray, cabinet door and the backside of the cabinet. But these are also the only things that differ between a 'Classic' and a 'Premium', with the 'Original' somewhere in between. All you need to do is to order the parts that differ from Weber and follow the original assembly instructions – the parts bolt right on. Some of the parts are not only the same within the E-210 range but are also common with the E-310 range, for instance the electronic ignition and the condiment tray. I'm waiting with upgrading the grids because I want to see if Weber will introduce stainless steel grids next year, but I ordered electronic ignition and the condiment tray the same day I bought the grill. Weber parts #69850 and #69824. Plus the cast iron griddle (part #7597).
First thing in need of a change was a beer opener: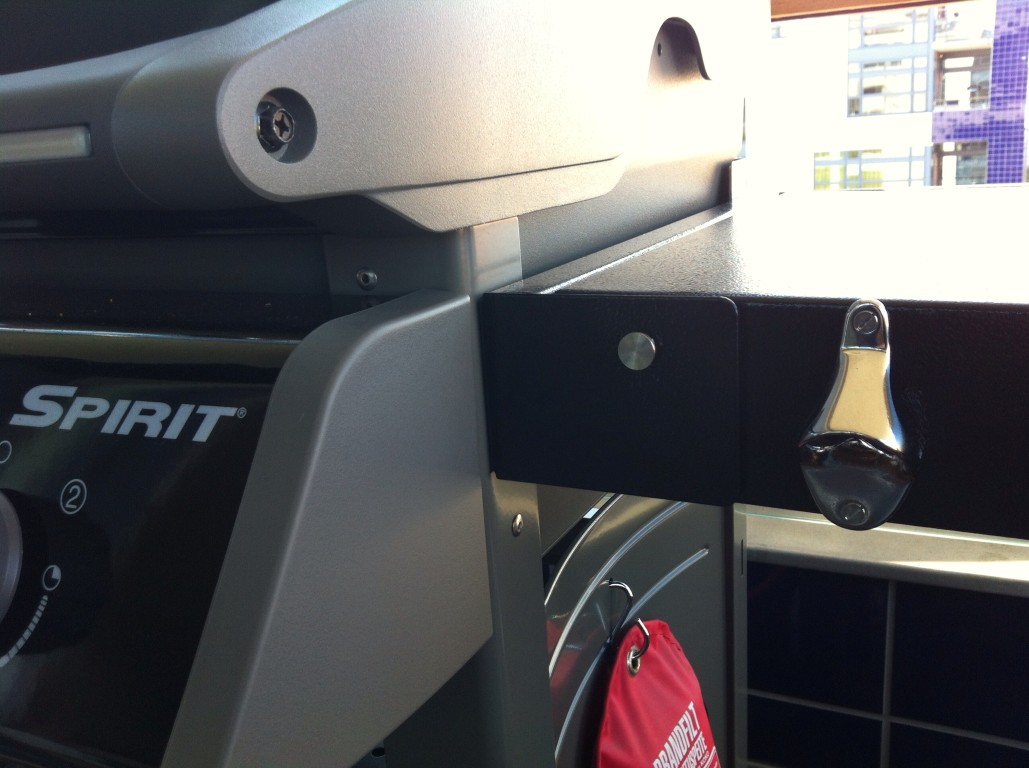 This is a classic nickel coated brass beer opener commonly found in boat accessory stores. Drill two holes in the side table and fix with stainless screws.
Then we need some place to put the beer when actually grilling: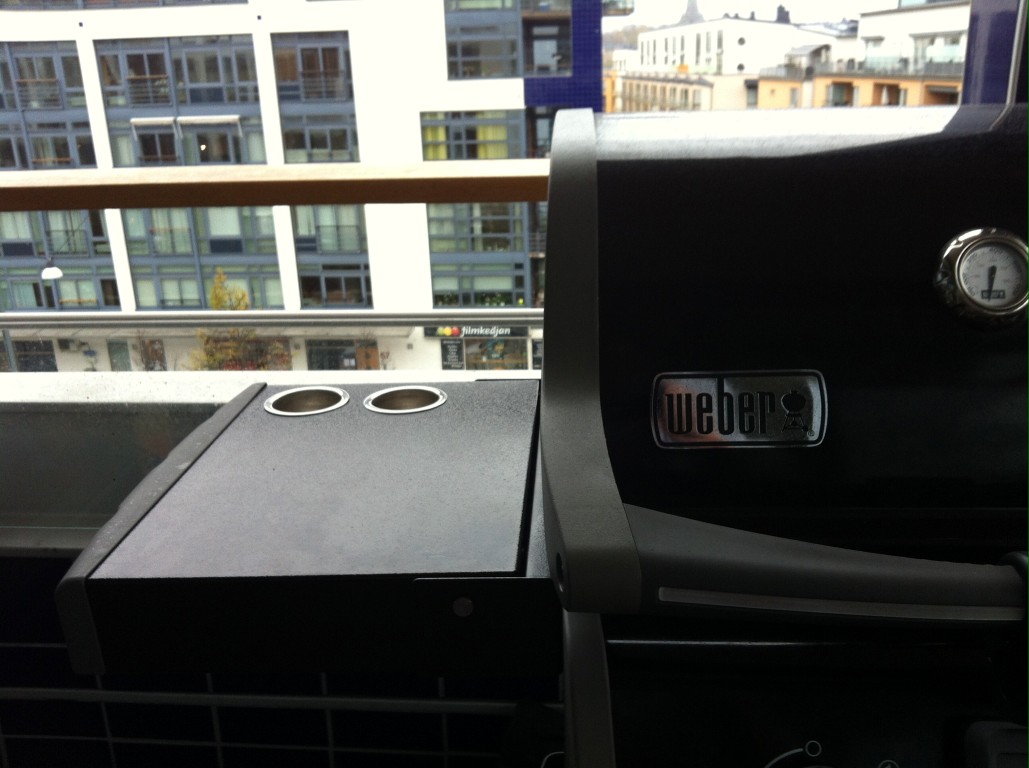 Cupholders in stainless steel for flush mounting, also commonly found in boat accessory stores. These are from Swedish
Roca
. Drill or cut two 70mm holes and fix the cupholders in place with black Sikaflex 291.
Electronic ignition is a must have and replacing the mechanic prehistoric 'KATCHUNCKA!!!' ignition was a true pleasure. I don't understand why Weber fitted the E-210 with mechanic ignition in the first place.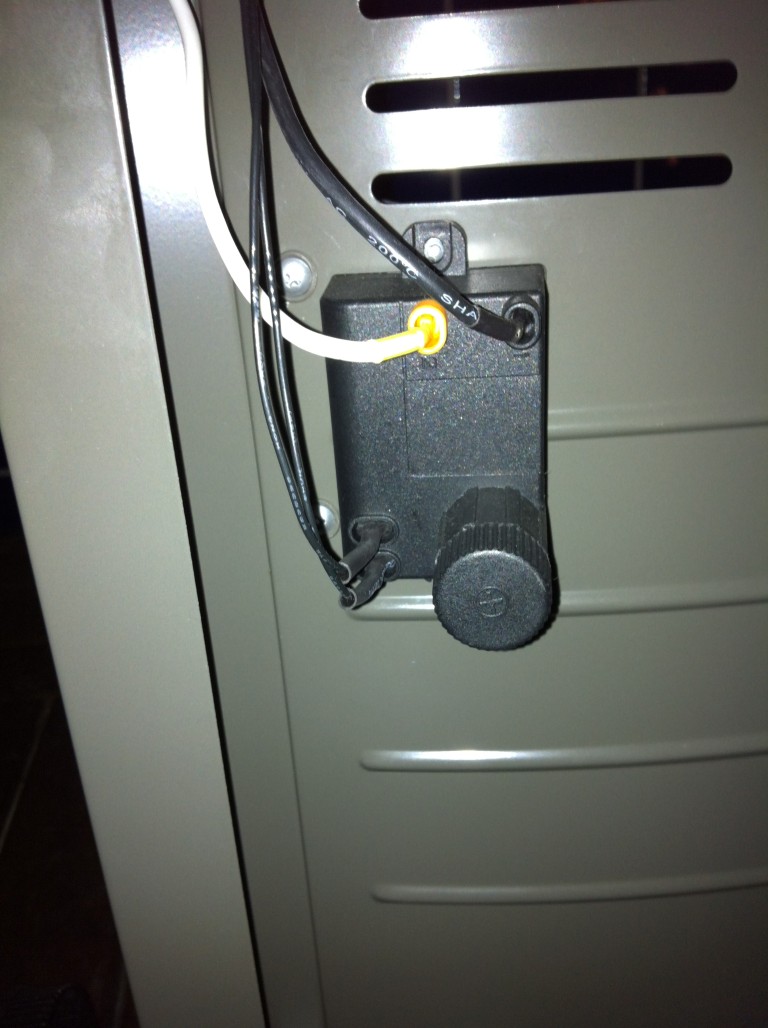 Installation is fast, easy and complies with the assembly instructions that came with the grill (as it covers all versions of it). You need the #69850 kit, an AA battery, a phillips screwdriver and five minutes of your time.
The condiment tray kit (#69824) comes with the screws and those plastic washers you need for mounting:

Fit the electronic igntion first, then the condiment tray. Also fits the Spirit E-310 series.
Winters in Sweden are dark and long, so some kind of light source is a must.

Although there is only room for one, Weber's GrillOut handle light (part #7516) fits right on.
I really like to use a cooking timer when grilling: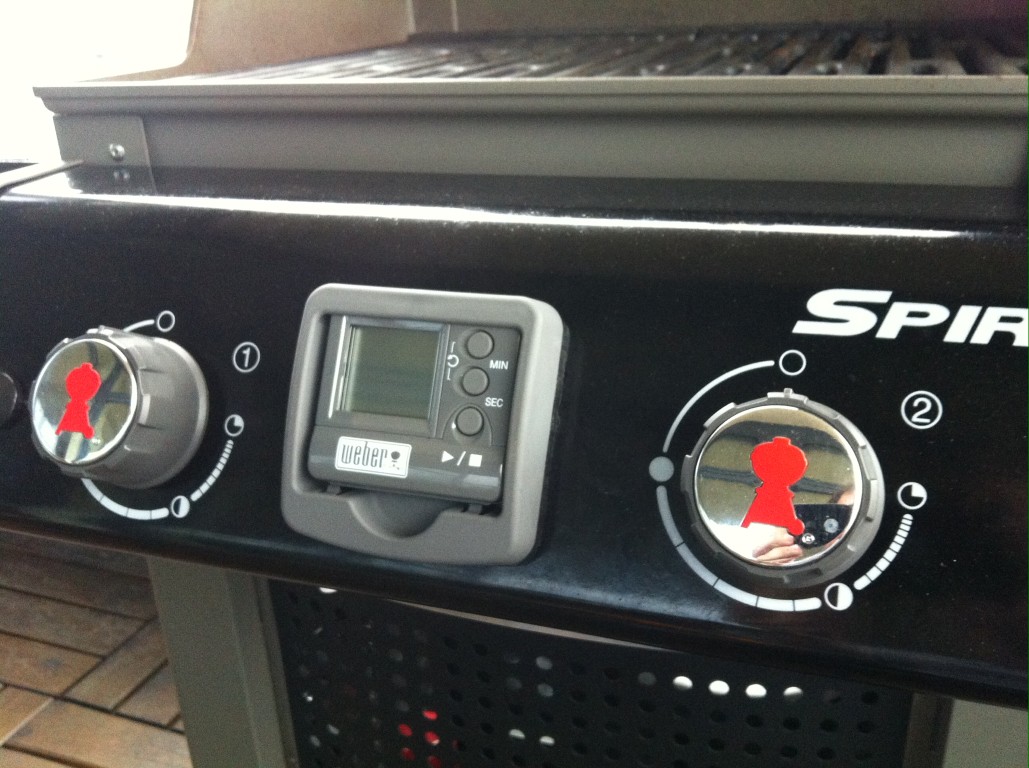 I like the one off of Weber's Performer Premium (part #85686 with holder #85682) which fits nicely in between the two burner knobs. The surface gets moderately hot after long times of grilling so as a precaution I placed a sheet of minerite (which is a stone version of dry wall) between the surface and the plastic holder, which I first coated with black engine room paint. You can barely see it on the picture and this is the case also in real life, which is kind of the point.
With these changes in place, my Weber is more fit for the job. I do miss a couple of things still, so if you're reading this Tom then please consider stainless steel grids and flavorizer bars for the E-210 and get rid of those wagon wheels and make the E-210 swivel around just like the E-310; it makes the grill even less bulky in limited space areas.
Waiver. This guide has been prepared for and verified with the Weber Spirit E-210 Classic gas grill and is likely (but not guaranteed) to be applicable to other grills in the same series. Understand that tampering with the grill may void the warranty. Do not perform these steps if you do not fully understand the setup and the implications. The text in this guide has been prepared with uttermost care but is, despite of that, to be regarded strictly as a guide to be used in conjunction with normal and cautious practice and common sense, including the safe operation of propane gas and electric equipment. I cannot accept liability for your actions. Work smart! Work safely!
Comments Off

on Pimp my Weber
:Pimp my grill, Pimp my Weber, Pimped Weber, Weber Spirit E-210
more...
by Fredrik on Sep.05, 2013, under Grill
Det tog mig sex år att inse att min grill var för stor för vår lägenhet. En GrandHall Premium 325 har yttermåtten 146x122x66cm (BxHxD) vilket motsvarar en Weber Genesis, och trots att jag gjorde det ena sidobordet fällbart så tog den helt enkelt för mycket plats. Så efter sex år med Störst-Grill-i-Kvarteret (en i vår del av världen högst respektabel titel) sålde jag den. GrandHall Premium 325 är en utmärkt och gedigen grill så det var inga problem. Efterfrågan var stor.
Att byta ner sig i storlek på grill kan ge vilket manligt självförtroende som helst en rejäl törn, men här fick pragmatismen gå före. Mitt största problem var att hitta en värdig ersättare, om än mindre. Det är här svårt eller omöjligt att inte titta på Weber när man shoppar runt efter en ny grill. Weber är störst, bäst och vackrast när det handlar om grillar. Andra tillverkare är antingen inte i närheten vad gäller kvalitet och utbud eller så är de för nischade och brister i tillgänglighet. Att min hovleverantör Fredells inte längre hade GrandHall i sortimentet spelade också in.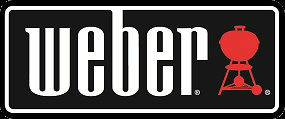 Problemet med en mindre grill är tyvärr att man hamnar i nybörjarsegmentet, men Weber har faktiskt en liten gasolgrill som trots sin storlek håller en anständig nivå i för 2013 nya Spirit E-210. Den finns i flera olika utföranden: Classic, Original och Premium men skillnaderna är förbluffande små och ett snabbt samtal till Webers reservdelsavdelning bekräftar att man för en (i sammanhanget) ringa penning och med enkla handgrepp kan bygga om en Classic till en Premium. Skillnaden till en Spirit E-310, med ytterligare en brännare, är dessutom bara 5cm i bredd. De flesta delar är gemensamma mellan E-210 och E-310. Utrustningsnivån och utbudet på relevanta tillbehör, som gjutjärnshäll och rostfria galler, är helt acceptabel. Så valet föll på en Weber Spirit E-210. Avgörandet var de fällbara sidoborden. Skillnaden i frigjord yta på altanen är mer än en kvadratmeter. Skillnaden i grilling experience lär jag få anledning att återkomma till men förhoppningen är ju att komma minst lika långt med en gedigen nybörjargrill i kombination med en del erfarenhet.
Comments Off

on Störst, bäst och vackrast
:GrandHall 325 Premium, Weber Spirit E-210
more...