by Fredrik on Mar.16, 2011, under What I'm reading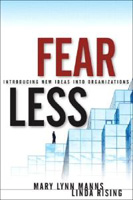 Long overdue, I finally picked up reading this book given to me by a friend several years ago and now I just can't put it down. Brutally honest in the description of the natural born unwillingness to change that we recognize with so many people we meet in our everyday encounters. This is how you tackle that unwillingness. A given gotta read!
Fearless Change : Patterns for Introducing New Ideas by Mary Lynn Manns and Linda Rising (2004). Addison-Wesley. ISBN 9780201741575.
:
Change management