Tag: Walter Isaacson
by Fredrik on Dec.06, 2011, under What I'm reading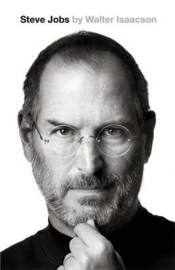 When Steve Jobs passed away in October this year it was tragic, sad and way too early. His contributions to mankind were substantial, in particular in the field of user experience. Some of us consider the products his company produce to be technically challenged, in many aspects even retarded, but that is another story. The man was obviously a genious, but also a product of his time (LSD anyone?). This is the book about him and the author, Walter Isaacson, has written many biographies before which is apparent (and comforting) when reading the 653 pages. The biography is honest and far from flattering. I will always remember this book, not necessarily because of its content or its crappy translation to Swedish, but because it was the first eBook that I read; on a device created by Mr Jobs.
Steve Jobs: The Exclusive Biography by Walter Isaacson (2011). Little Brown. ISBN 9789100127084.
Comments Off

on A binary genious
:Steve Jobs biography, Walter Isaacson
more...